Mad River - двухместное каноэ
Mad River - двухместное каноэ
Petkeljärventie 61, 82900 Ilomantsi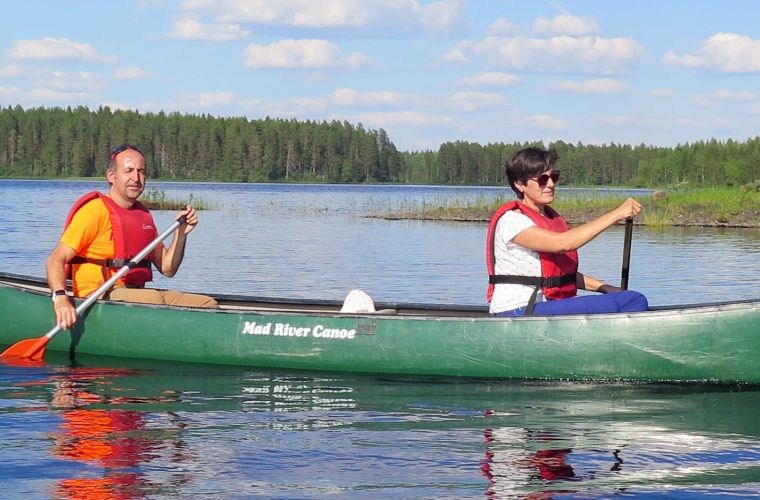 ---
Возрастное ограничение
18
Mad River is a traditional, multi-purpose and sturdy open canoe and is great for both smooth and flowing water, the sturdy canoe also carries a lot of load.
The rental price always includes a lifejacket or paddling jacket, paddles, a paddle or a sponge. The equipment is always rented inspected and a written contract is always made with the lessee. The renter of the paddling equipment must be of legal age.
Delivery and return of rental equipment to day visitors during the opening hours of the cafe and the nature shelter. For those staying in the camping center's accommodation or campsite according to the agreement and -10% of the normal price.
1h 30€, 2-4h 40€, 5-8h 50€, 1 day 60€ and additional days 10€/day
Free cancellation 24h before the start of the reservation, with the exception of a sudden change in weather (storm, thunder, heavy rain )
Расстояния
Расстояние до ближайшего магазина:

24 km

Etäisyys vesistöön:

0,1km km
Petkeljärventie 61, 82900 Ilomantsi
Посмотреть также эти
For lunch, why not
Come, see and experience the wonderful landscapes of Petkeljärvi National Park. Come and enjoy the highly...
---
Wood-heated sauna
Petkeljärvi beach sauna is famous for its good and gentle baths. It is possible to book a sauna from mid-May...
---