mobile home place with electricity
mobile home place with electricity
Petkeljärventie 61, 82900 Ilomantsi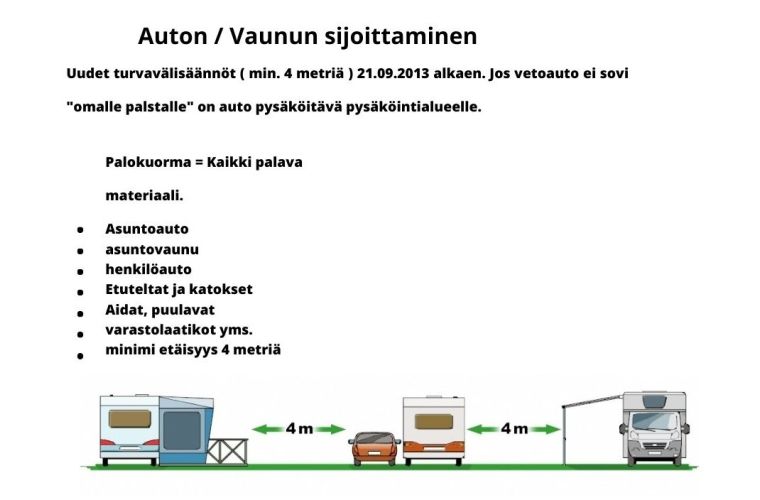 ---
Домашние животные разрешены
In the BOOKING CALENDAR, note that the point "room 1" = 1 mobile home space, if you also want to book 2 separate mobile home spaces, mark the number of rooms as 2.
There is a small and modest caravan area at the camping center. There are 7 places with electricity. The caravan area is open from May to October (weather permitting). Please note that you cannot reserve a seat through our website if the reservation and Arrival date are the same, online reservations must be made at least 1 day earlier. If you are arriving today, confirm availability by calling +35841 436 1790. In June-August, the price includes a general (electric) sauna session from 19:00 to 21:00. Separate saunas for women and men. For an additional fee, it is possible to reserve our wood-heated beach sauna for private use.
Any kind of open fire in the campsite is strictly prohibited. Behind the main building is a separate barbecue area for making an open fire. You must never light a campfire or other open fire if the surrounding conditions, due to drought, wind or other reasons, are such that the danger of a forest fire, grass fire or other fire is obvious - do not light it!
LONG campers or wagons note! Since the number and size of our places is limited, if you have a mobile home or caravan with a length of more than 8m, please contact us by phone at +358414361790.
удобства
Домашние животные разрешены

Автомобильная отопительная вилка

Караван-место

Grillhouse

Общий туалет

Общая ванная

Возможность приготовления

Кафе в этом районе

Конференц-залы в этом районе

Сушильный шкаф

пирс

Стиральная машина

Сауна

Электричество

Электрическая баня с подогревом

пляж

Открытый туалет
Расстояния
Расстояние до ближайшего магазина:

24 km

Etäisyys vesistöön:

0,1 km
from 25€
Petkeljärventie 61, 82900 Ilomantsi