Rooms with courtyard views from the hiking center
Rooms with courtyard views from the hiking center
Petkeljärventie 61, 82900 Ilomantsi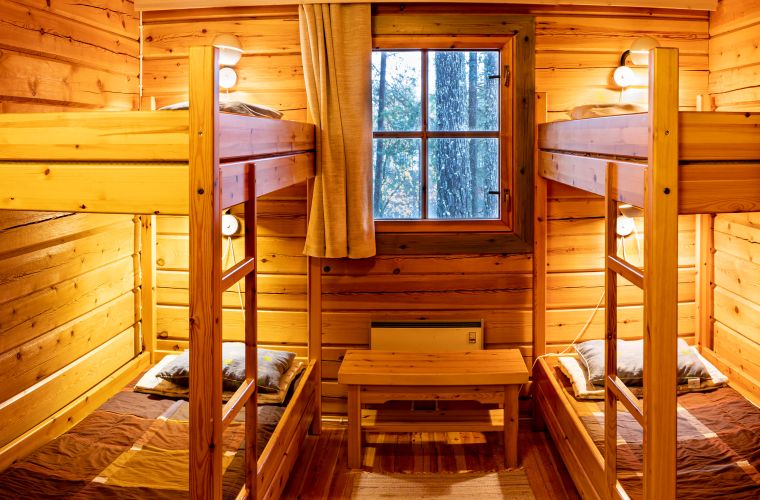 ---
The bedroom is located in the accommodation wing of the main building of the hiking center, overlooking the courtyard. The furnishings of the room are mainly reminiscent of a return to an 80's penitentiary. Rooms have 2 bunk beds, a dining table and a wardrobe. Shared toilets, showers and a kitchen are located in the hallway. The accommodation wing of the hiking center was built in the late 80's for summer use from a 140mm thick log. No sound insulation has been used in the walls of the accommodation building, so the log insulates the sound as in the barn accommodation itself.
The accommodation building is well suited for self-catering accommodation and hiking in the national park. The shared kitchen is small but well equipped. The kitchen has a large fridge with numbered drawers for storing your own snacks, a microwave, a coffee and kettle, a hob and oven, and crockery and cooking utensils.
The bed has a mattress, duvet and pillow. Sheets and towels at extra cost.
Facilities
No smoking

Free WiFi

Shared toilet

Shared bathroom

Cooking possibility

No pets

Travel cot and high chair on request

Electricity

Electric heating

Electric lighting
Distances
Distance to bus station:

24 km

Distance to nearest store:

24 km
from 45€
Petkeljärventie 61, 82900 Ilomantsi
View also these
Non-electric caravan sites
Non-electric caravan sites. With an international camping card 3 € discount / day when you present a valid...
---