Rooms with lake views from the hiking center
Rooms with lake views from the hiking center
Petkeljärventie 61, 82900 Ilomantsi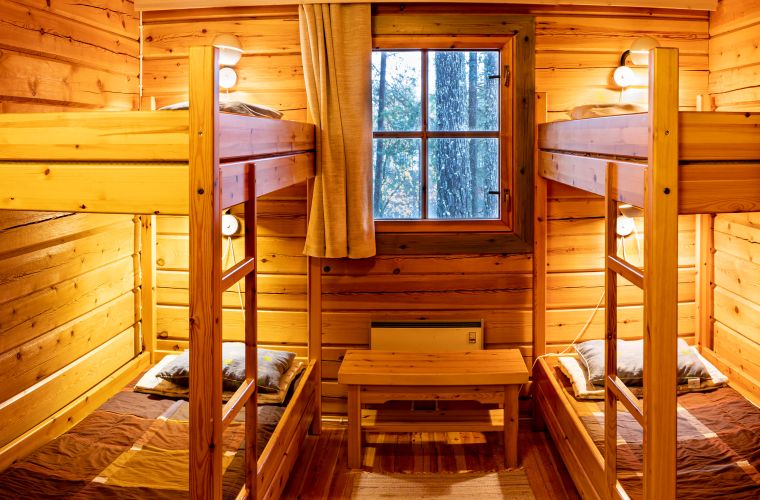 ---
The bedroom is located in the accommodation wing of the main building of the hiking center, with a window overlooking the lake in the evening sun. The furnishings of the room are mainly reminiscent of a return to an 80's penitentiary. Rooms have 2 bunk beds, a dining table and a wardrobe.
The shared toilets, showers and kitchen in the accommodation building are located in the hallway. The accommodation wing of the hiking center was built in the late 80's for summer use from a 140mm thick log. No sound insulation has been used in the walls of the accommodation building, so the log insulates the sound as in the barn accommodation itself. The accommodation building has a total of 9 rooms for 4 people, and one that can accommodate 6-8 people. There are a total of 44 beds.
The accommodation building is well suited for self-catering accommodation and hiking in the national park. The shared kitchen is small but well equipped. The kitchen has a large fridge with rooms for storing your own snacks, a microwave, a coffee machine, a kettle, a stove and an oven, as well as crockery and cooking utensils.
Beds have mattresses, duvets and pillows. Sheets and towels at extra cost.
Facilities
No smoking

Free WiFi

Shared toilet

Shared bathroom

Cooking possibility

Café in the area

No pets

Travel cot and high chair on request

Electricity

Electric heating

Electric lighting

Bedclothes (blanket and pillow), for extracharge bed linen and towel
from 40€
Petkeljärventie 61, 82900 Ilomantsi
View also these
mobile home place with electricity
Our small and modest campsite is located in the middle of Petkeljärvi National Park.
---
from €25 incl. 1 person and electricity. In June-August, the price includes a general sauna shift from 19:00 to 21:00
The park ranger's hut
Relive the living atmosphere of the 1960s
---
minimum time 2 days/260€ for 1-6 persons, additional days 60€/day for 1-6 persons. Additional beds in the shed (4 pcs.) 10€/person/day.
1 tent or 1-2 hammock place from the hiking center
Our small and modest campsite is located in the middle of Petkeljärvi National Park.
---
from €18 incl. 1 person and electricity. In June-August, the price includes a general sauna shift from 19:00 to 21:00